Virtustream Resources
Tools and insights to drive your digital transformation.
---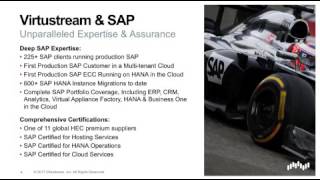 Running SAP HANA in the Cloud to Boost Global Efficiency
In this session, Henrik Wagner addresses how to drive process improvements, efficiency gains, competitiveness, and profits with SAP HANA deployed in clouds. Learn about the considerations and requirements for migrating SAP HANA to cloud. Hear about how SAP HANA in the cloud can increase enterprises' analytic and BI capabilities. Understand the considerations for choosing the right service provider to infuse cloud services with unprecedented reach, flexibility, and efficiency.
Cloud Economics, Simplified: The Virtustream Difference
Join Matt Theurer, Virtustream's co-founder and SVP of Product Management, as he answers common questions and explains how patented Virtustream μVM technology drives real savings, higher efficiency and better performance for enterprises running mission-critical applications.
Rodney Rogers and Kevin Reid / 2016 Dell EMC World
Rodney Rogers, CEO and Kevin Reid, President and CTO of Virtustream give their insight on powering through the digital transformation at Dell EMC World 2016. While innovation can sometimes be dangerous, Rodney explains how Virtustream is successful in walking the "fine line between courage and madness".