Virtustream Resources
Tools and insights to drive your digital transformation.
---
Ovum Decision Matrix: Selecting a IaaS Provider, 2017–18
Virtustream is named a Global IaaS Market Leader in the Ovum Decision Matrix: Selecting a IaaS Provider, 2017–18. The report reveals why Virtustream ranks as a leader, scoring high marks for enterprise fit, innovation, interoperability and security. Virtustream also is the report's only leader with a true 100 percent enterprise focus.
The Forrester Wave™: Hosted Private Cloud Services in Europe, Q3 2017
Virtustream named a Leader in The Forrester Wave™: Hosted Private Cloud Services in Europe, Q3 2017. Forrester reports: "Virtustream doubles down on customers' big, mission-critical workloads" and "With data centers in France, Germany, Ireland, the Netherlands, and the UK, plus support for local data legislation, Virtustream is well-placed to serve European customers. The company makes self-service by those customers a breeze, with an intuitive management portal singled out for praise."
Forrester Study: Cloud Migration - Critical Drivers for Success
In this July 2017 commissioned study by Forrester Consulting on behalf of Virtustream, enterprises report that a specialized approach for moving mission-critical workloads to the cloud is needed vs. insufficient standard migration models. This study also provides new insights into key obstacles faced when migrating enterprise-level applications and systems to the cloud.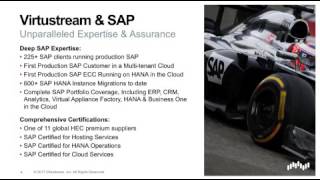 Running SAP HANA in the Cloud to Boost Global Efficiency
In this session, Henrik Wagner addresses how to drive process improvements, efficiency gains, competitiveness, and profits with SAP HANA deployed in clouds. Learn about the considerations and requirements for migrating SAP HANA to cloud. Hear about how SAP HANA in the cloud can increase enterprises' analytic and BI capabilities. Understand the considerations for choosing the right service provider to infuse cloud services with unprecedented reach, flexibility, and efficiency.
Cloud Economics, Simplified: The Virtustream Difference
Join Matt Theurer, Virtustream's co-founder and SVP of Product Management, as he answers common questions and explains how patented Virtustream μVM technology drives real savings, higher efficiency and better performance for enterprises running mission-critical applications.
Rodney Rogers and Kevin Reid / 2016 Dell EMC World
Rodney Rogers, CEO and Kevin Reid, President and CTO of Virtustream give their insight on powering through the digital transformation at Dell EMC World 2016. While innovation can sometimes be dangerous, Rodney explains how Virtustream is successful in walking the "fine line between courage and madness".